Rehabilitation
We are not a normal gym. All our programs are based on a thorough examination and overseen by highly trained staff to best manage your problem. Our staff design individual programs that allow you to exercise without pain, enhance your function and meet your goals. Whether activities of daily living or elite sport we will meet your needs. These programs are based on the latest research available.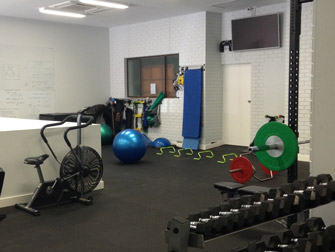 We have a state of the art rehab gym that offers a friendly and motivating environment for individual and group sessions.
Many of our clients are here for rehabilitation of a wide range of conditions and many of our services are subsidised by Medicare and Private Health Insurers.
Back pain
Neck pain
Spinal pain
Hip / knee pain
Shoulder pain
Chronic pain
Injury prevention
Work hardening
Return to Work
Posture retraining
Sports specific rehabilitation
Stress management
Osteoarthritis
Osteoporosis
Fall prevention
Ankylosing spondylitis